Forest is the sixteenth song and final bonus track on the bonus edition of the album Vessel. It was recorded for the album Regional at Best, before the album was discontinued following the band's first major label signing. It is produced by Twenty One Pilots. Its only US release is on Regional at Best.
Versions
Holding On To You was originally recorded for Regional at Best, but following the band's signing with Fueled by Ramen and subsequent discontinuation of the album, the song was included on the bonus edition of the album Vessel.
On May 17, 2011, a teaser snippet featuring Tyler Joseph performing the song with no musical accompaniment was uploaded to the band's YouTube channel. At this point, the track was titled "Forrest".
A live performance of Forest at the Newport Music Hall was uploaded to the twenty one pilots' Youtube channel on January 13, 2012. Forest (Live at Newport Music Hall) was recorded at a show around November 19, 2011.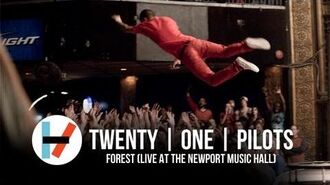 Lyrics
I don't know why I feed on emotion
There's a stomach inside my brain
I don't wanna be heard
I want to be listened to
Does it bother anyone else
That someone else has your name?
Does it bother anyone else
That someone else has your name, your name?

I scream, you scream, we all scream
'Cause we're terrified of what's around the corner
We stay in place
'Cause we don't want to lose our lives
So let's think of something better

Down in the forest
We'll sing a chorus
One that everybody knows
Hands held higher,
We'll be on fire
Singing songs that nobody wrote

My brain has given up
White flags are hoisted
I took some food for thought
It might be poisoned
The stomach in my brain
Throws up onto the page
Does it bother anyone else
That someone else has your name?
Does it bother anyone else
That someone else has your name?

I scream, you scream, we all scream
'Cause we're terrified of what's around the corner
We stay in place
'Cause we don't wanna lose our lives
So let's think of something better

Down in the forest
We'll sing a chorus
One that everybody knows
Hands held higher,
We'll be on fire
Singing songs that nobody wrote

Quickly moving towards a storm
Moving forward, torn
Into pieces over reasons of what these storms are for
I don't understand why everything I adore
Takes a different form when I squint my eyes
Have you ever done that?
When you squint your eyes
And your eyelashes make it look a little not right
And then when just enough light
Comes from just the right side
And you find you're not who you're supposed to be?

This is not what you're supposed to see
Please, remember me I am supposed to be
King of a kingdom or swinging on a swing
Something happened to my imagination
This situation's becoming dire
My tree house is on fire
And for some reason I smell gas on my hands
This is not what I had planned
This is not what I had planned

Down in the forest
We'll sing a chorus
Hands held higher,
We'll be on fire
Singing songs that nobody wrote

Down in the forest
We'll sing a chorus
One that everybody knows
Hands held higher,
We'll be on fire
Singing songs that nobody wrote

Hands held higher,
We'll be on fire

Hands held higher,
We'll be on fire
Credits
Writers, performers and producers
Tyler Joseph and Josh Dun
Published by

Tyler Joseph Music, LLC / Twenty One Pilots, LLC
All Rights Reserved