Screen is the seventh song on the album Vessel. It was recorded in Los Angeles and is produced by Greg Wells.
Official Audio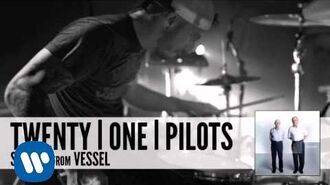 Versions
A live performance of Screen at the LC Pavilion was uploaded to The Live Room powered by Warner Music's YouTube Channel on August 19, 2013. Screen (Live at LC Pavilion) was recorded at a show on April 26, 2013.
Commentary
Following the release of Vessel, Spotify shared an exclusive commentary by Tyler Joseph for each track on the standard edition.
Screen is a song that I also wrote on the ukulele, which is interesting. I've always… I've never wanted to be 'the ukulele guy'. You know, I don't want like one song to be defining my career as a song writer. So every time I write a song on the ukulele I'm like "I hope this isn't a hit 'cause I don't wanna be the ukulele guy." But this song, Screen, is—I've always pictured people singing this song with me. I've never not pictured a bunch of people singing this song with me, it's always been a very collective group mentality to this song and which is why it's got kind of that upbeat feel to it and it's very different than most of the other songs on the album, but which song isn't, you know. I truly don't want anyone to anticipate what's happening next. I don't know why any writer would want that. But Screen is one of my favorite to play live. It's just fresh. I like it.
Lyrics
I do not know why I would go
In front of you and hide my soul
'Cause you're the only one who knows it,
Yeah you're the only one who knows it

And I will hide behind my pride
Don't know why I think I can lie
'Cause there's a screen on my chest
Yeah there's a screen on my chest

I'm standing in front of you
I'm standing in front of you
I'm trying to be so cool
Everything together trying to be so cool

I'm standing in front of you
Oh I'm standing in front of you
I'm trying to be so cool
Everything together trying to be so cool

I can't see past my own nose, I'm seeing everything in slo-mo
Look out below crashing down to the ground just like a vertical locomotive
That's a train, am I painting the picture that's in my brain?
A train from the sky, locomotive, my motives are insane
My flow's not great, okay, I conversate with people
Who know if I flow on a song I'll get no radio play
While you're doing fine, there's some people and I
Who have a really tough time getting through this life
So excuse us while we sing to the sky

I'm standing in front of you
I'm standing in front of you
I'm trying to be so cool
Everything together trying to be so cool

I'm standing in front of you
Oh I'm standing in front of you
Oh I'm trying to be so cool
Everything together trying to be so cool

Oh oh oh
We're broken
We're broken
We're broken
We're broken people, oh
We're broken people, oh

We're broken
We're broken
We're broken
We're broken people, oh
We're broken people, oh yeah

We're broken
We're broken
We're broken
We're broken people, oh
We're broken people, oh yeah

I'm standing in front of you
I'm standing in front of you
I'm trying to be so cool
Everything together trying to be so cool

I'm standing in front of you
I'm standing in front of you
Oh I'm trying to be so cool
Everything together trying to be so cool
Credits
Writers and producers
Tyler Joseph and Greg Wells
Recorded by
Ian MacGregor at Rocket Carousel Studio Los Angeles, CA
Programming
Tyler Joseph and Greg Wells
Piano, keys and ukulele
Tyler Joseph
Drums and auxiliary percussion
Josh Dun
Vocals
Tyler Joseph
Additional synths and keyboards
Greg Wells
Mixed by
Greg Wells at Rocket Carousel Studio Los Angeles, CA
Mastered by
Howie Weinberg & Dan Gerbarg at Howie Weinberg Mastering, Los Angeles, CA
Published by

Warner-Tamerlane Publishing Corp (BMI) / Fueled By Music (BMI) / Stryker Joseph Music (BMI)
All rights on behalf of itself and Stryker Joseph Music
Administered by Warner-Tamerlane Publishing Corp